Shoegaze came about in the late 80's in England. It strayed from traditional rock'n'roll in the sense that the movement incorporated a host of effect pedals and incredibly loud electric guitars. Building layers and layers of hazy, woozy tones gave shoegaze it's most notable character. It sort of threw the ridged harshness of rock out the window by applying all these crazy delays and resonance noises. It kind of sounds like The Cure playing in a bathroom. Shoegaze is also the grandfather of grunge and some britpop bands like Blur and Oasis.
Technically the genre is termed "shoegazers" because the bands were known for their habit of staring down at their effects pedals on stage. But what's really cute about the whole shoegaze genre is the rep all the bands got as far as their relationship with each other. Shoegaze was associated with the term "The Scene That Celebrates Itself" which described a musical as well as social scene at the time. Basically, the term focused on the fact that bands associated with this term would, rather than forming rivalries, play at each other's gigs, play in each other's bands and drank together. For example, Moose would swap members with other bands on any given night. Russell Yates, the singer, and the guitarist of Stereolab, Tim Gane, would switch places a lot and "Moose" McKillop on the guitar would play with See See Rider. Tim Gane even played with them when they played on BBC radio in 1991.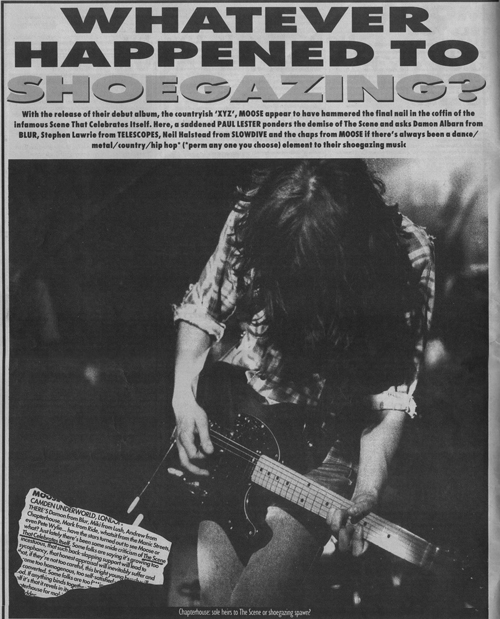 So neo shoegaze just refers to the new sounds that shoegaze has developed. It's sort of taken two directions. Some of it went a little electronic and developed the chillwave or glo-fi sound. It also, as mentioned earlier, developed the grungy sound. I can see it sort of attributing the 'whatever-mushy-music' sound that grunge incorporates into its lack of fuck-giving character.
Setlist for October 8, 2012
Cocteau Twins // In Our Angelhood
Chapterhouse // Falling Down
Ride // Taste
My Bloody Valentine // Soon
The Jesus and Mary Chain // Just Like Honey
The Secret Machines // Lightning Blue Eyes
Stab Ability // Sayulita
Février // Leo Sunshine
Lazyeyes // Weight
SNEAKPEEK // THROUGH THE LOOKING GLASS